Shapes Games

Break Through

Topic/s: Shapes

Break through the tiles to reveal images and questions in the game. Players can use either one ball or risk them all. They're three game modes to test your knowledge while you smash tiles using various power-up balls.
Fly By

Topic/s: Shapes, Metals, Food, Energy, Acid & Alkalis

The mission is to liberate supplies from the enemy in order to foil their dastardly plans. Players must fly and shoot at enemies whilst collecting items from the chosen topic. Chocks away!
Hole Shapes

Topic/s: Shapes

Is it possible to get a square peg in a round hole? Players need to alter shapes so that they can fit into particular holes. Use a calculator to increase and decrease the number of sides on the shapes. Be careful though as some buttons on the calculator may disappear.
Number Blox

Topic/s: Shapes

This is a fun and simple adding game. Players will see an image and question on the screen and they must pick the right number to answer the question.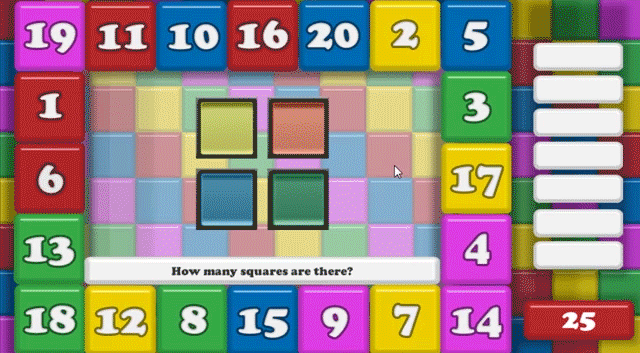 Shape Mania

Topic/s: Shapes

Construction of a new building is under way. Players must fill the crates with the shape materials given. All of the shapes must fit in the crates so the lid fits on therefore all of the shapes in the crate must fit under the fill line given.
Shape Mania

Topic/s: Shapes

Shape Prints is a basic identification game. Players will be given a number of pattern blue prints and your task is to identify the number of different shapes are in the patterns before the prints are moved on
Snappy Shapes

Topic/s: Shapes

Snappy Shapes is an easy to play card game based on the classic game of snap. The cards played are linked to specific shapes and each shape has 3 unique cards linked to them. Players need to match the cards by their name, image and number of sides.
Triangulate

Topic/s: Shapes

Players are tasked with getting rid of the alien triangles. To do so they need to create specific triangular portals around them that match their triangle type.

To request a Demo of EDArcade please click here or fill in the contact form below