Welcome to EDArcade.
EDArcade is an educational gaming platform that has been designed around the English, Maths, Science, PSHE, and esafety Curriculum to support the educational needs of children ages 4 to 11 and SEN students of all ages. We focus on tough-to-teach topics and important life skills as well as the development of children's academic ability. Our library features 120+ educational games and our virtual world EDVille. With 23 different languages (including Makaton) incorporated into each individual game, this provides support for ESOL and EAL students, as well as allowing students to learn a new language if they wish too.
Teachers and students will be given log in details, to access different sides of the platform. Here are just a few ways EDArcade can benefit both your students and teachers:
The teacher portal enable teachers to :
Set pathways for learning to deliver

class room work
at home for homework
homeschooling
additional work
catch up topics and subjects
fun challenges for pupils
differentiate learning
break out lessons
plenaries
indpendent study time
wet weather periods
help deliver topics in

English
Matsh
Science
PSHE
Internet Safety
Bully and cyber bullying
Recycling and the environment
You can also:
Monitor activity and performance of students
Modify games/quizzes to match classroom learning
Manage and add new students
Manage and add new members of staff
View student reports
View student logs
View the strengths and weaknesses of each student
The students portal:
Access to Games, EDVille and animated videos
Complete learning pathways
Learn independently
Share and play games with family and friends
Remote Learning
Maths/English/Science Games that follow the National Curriculum
Makaton signs, symbols and sounds
23 languages available in written and verbal communications
This is how EDArcade works
| | | | | |
| --- | --- | --- | --- | --- |
| | | | | |
| Extensive English games available for pupils to learn in class and at home. | | Maths games, puzzles and quizzes available. These games can be great for any learner, anywhere. | | Science games and resources avaliable. All games and lessons match to the curriculum. |
| | | | | |
| Pupils have grammar, spelling and language games that can be played to develop their understanding. | | Multiplication, Division, Addition and many more maths games can be accessed to help improve knowledge and understanding. | | You can create learning pathways for pupils follow. All evidence is tracked and recorded. |
| | | | | |
| EDArcade can be used for homework tasks. | | You can create your own questions within the teacher/ admin section. | | Over 100 games and quizzes are available. |
| | | | | |
| EDArcade can be used for independent study. | | We have many different types of games and questions. | | You can request certain games to be hidden. |
| | | | | |
| All pupils can instantly gain access. | | Pupils have daily tasks that can relate to pathways. | | Tasks can also relate to classwork and homework. |
| | | | | |
| The whole of EDVille enables your pupils to learn, work and play! | | Pupils can travel around the virtual world on a bike, scooter, car or quad. | | Pupils log on to get updates and challenges relating to their world. |
| | | | | |
| The allotment and world only flourishes if the pupil learns and progresses | | Buy and Sell goods at the market. | | Pupils can navigate around the arcade, fairground and race tracks. |
| | | | | |
| Pupils learn how to meet and great people | | Pupils learn to become an entrepreneur. | | Pupils need to constantly learn to cultivate and improve their world. |
| | | | | |
| Makaton resources have video clips with interactive actions showing the words and phrases. | | Pupils can learn Makaton by replicating the interactive actions and sounds. | | The Makaton also works alongside the 23 languages. |
| | | | | |
| Pupils can learn different languages. | | We have over an extensive range of topics that are interpreted. | | Pupils can listen to the word and phrases in 23 languages. |
| | | | | |
| Pupils can learn about crime and the law. | | A pupil can learn at their optimum learning pace. | | We aim for all users to learn whilst having fun! |
| | | | | |
| Pupils learn about recycling at a recycling and refuge centre. | | They must help EDVille recycle and sort out the waste and rubbish. | | Pupils learn about the emergency services. |
| | | | | |
| There are quizzes and games on road, rail and water safety. | | Questions are randomised. | | Learn about junk food. |
| | | | | |
| Pupils must clean up their beaches and recycle. | | Pupils have a chance to clean parts of the ocean. | | Pupils can play fun and challenginge environmental games. |
What is a Learning Pathway?
A Learning Pathway is a regime of games that can be customized in length, order and lesson aims. Pupils can be given a deadline and assigned work as homework or as a long-term classwork plan.
English, Maths, Science and PSHE games available
Click to see the extensive catalogue of interactive, fun and challenging English, Maths, Science and PSHE games that make up the EDArcade world...
Click the flags to view the modern foreign languages avaialble to learn within the platform, alongisde the resources accessible for your ESOL and EAL pupils.
As we design school packages bespoke to each individual school, our prices may vary depending on what package you are interested in. To enquire about purchasing EDArcade for your school, please get contact us today!
Problems We Can Solve
We are proud to highlight that EDArcade can address the following issues:
Encouraging pupil engagement
Homeschooling
Catch up delivery and sessions for missed learning through interactive games
Pupils experiencing separation anxiety
Having a positive alternative provision where students are learning
Staff absences and staff shielding
Assessing and tracking pupils accurately and continuously
Rural delivery to pupils
One to one support to small classroom delivery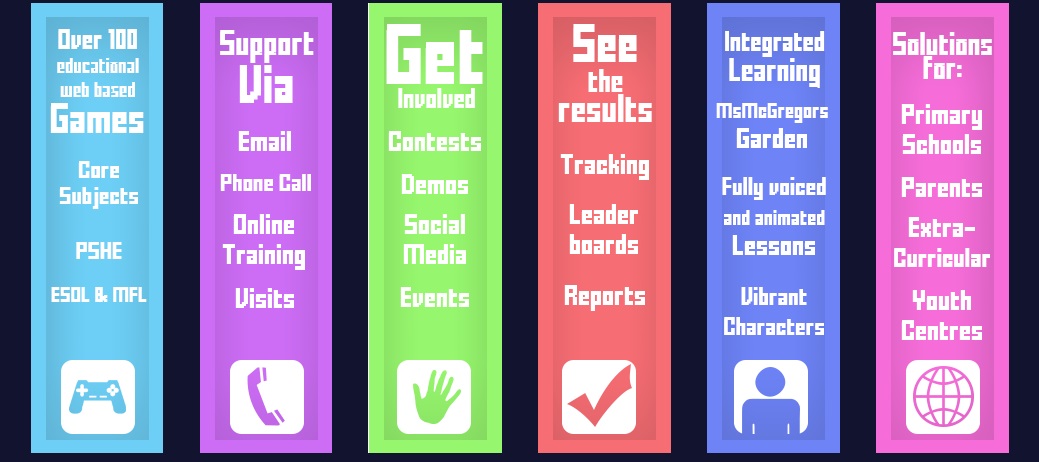 Pricing Structure from 1st September 2020

Individual Subscription: £10.95 per licence (3p per day)

School Licence

Number of Licences
1 Year Subscription
3 Year Subscription (Special Offer)
0-250
£6.00 per licence (1.64p per day)
£17.10 per licence (5% discount) (1.56p per day)
251-500
£4.75 per licence (1.3p per day)
£13.53 per licence (5% discount) (1.23p per day)
501-750
£4.50 per licence (1.23p per day)
£12.84 per licence (5% discount) (1.17p per day)
750-1000
£4.00 per licence (1.09p per day)
£11.40 per licence (5% discount) (1.04p per day)